By Lynn Chandler Willis –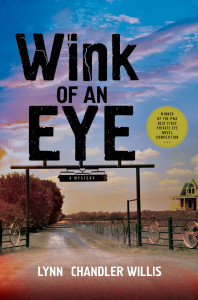 A few years ago I saw an announcement for the Tony Hillerman contest. Named after the great mystery novelist, the contest has very specific rules, including where the novel must take place. The winner receives a publishing contract with St. Martin's and a nice advance. With the deadline three months away, I dove in and wrote Wink of an Eye like a madwoman.
But forty-thousand words into the manuscript, I realized there was no way I could complete it, have it edited, and polish it for submission in such a short time. I was not going to submit a very rough first draft.
So I chucked the contest but kept the manuscript, kept working with it, hoping to submit somewhere, someday. My critique group edited the story, but I wound up shelving the book for a while as I moved on to other projects.
Then two years ago at a conference, I had the opportunity to pitch to an agent. The agent loved Wink of an Eye, saying the voice had tremendous potential. But her next words made me blink. "I know I can sell this to a small press."
At the risk of sounding arrogant, I knew I could sell it to a small press. But when the agent told me to send the entire manuscript, excitement urged me to oblige. A week or so later, I received an email from the agency intern saying, yes, she loved it too! But we had a few problems. Good voice, but too much dialogue. Excessive description because it was too visual; per the intern, having readers say they can "see it as a movie" isn't a good thing. Oh, and the beginning had to change.
But they loved it and knew it would sell to any number of small presses. I scratched my head at what was supposed to be my big break. A real agent wanted to represent my work. So why wasn't I doing back flips?
I went to work on the suggested revisions and soon had several documents named Wink rewrite, Wink rewrite2, Wink rewrite3, and so on . . . until I said enough. Some of the changes I agreed with—like changing a passive verb—but the dialogue and descriptive imagery stayed.
This story was my baby and my maternal instinct warned me to tell the intern thanks but no thanks. I was overly confident with my work; I just knew my story. I'd written enough years and had surrounded myself with enough published authors to recognize which changes work and which do not. I can even step away from even my own work and say, nah, it doesn't work. So it wasn't an ego thing. Mama bear was protecting her cub.
So what happened to Wink of an Eye? I submitted it to the St. Martin's Press/Minotaur Books Best 1st Private Eye Novel Competition and the darn thing won. With all its dialogue and descriptive imagery and even the occasional passive voice. It will be released November 18, 2014.
I knew I had something good, and I stood by it.
BIO: Lynn Chandler Willis is the author of the best-selling true crime book Unholy Covenant. Her debut novel The Rising (Pelican Book Group) was released in July 2013 and was named a finalist for the Grace Award and the INSPY Award. Chandler-Willis is the 2013 winner of the Minotaur Books/Private Eye Novel Writers of America Best First Private Eye Novel competition for her novel Wink of an Eye. It will be released by Minotaur in Nov. 2014.