There are readers who like bookstores and readers who prefer Amazon. Pitting them against each other is like telling people they ought to like Coca Cola over Pepsi. They have their reasons, and you won't change them.
Most of the time.
"If the bookshops are good enough, if the relationship with your customers is truly there, if your booksellers are enjoying themselves and you've trained them and you've respected them and you've allowed them to develop their skills… then our customers truly will remain loyal to us." ~James Daunt, managing director of Waterstones, at the 2017 Australian Booksellers Association's annual conference in Melbourne
But sometimes bookstore employees forget. Sometimes they let their personal feelings float to the surface, and therein lies a key reason people go to Amazon versus a bookstore . . . to purchase a book of choice in a nonjudgmental atmosphere. They want to feel the store is benign, much like a doctor who treats anyone, regardless of who they are or what disease they have. Take away that safe feeling , and both a bookstore and a doctor loses credibility . . . and business.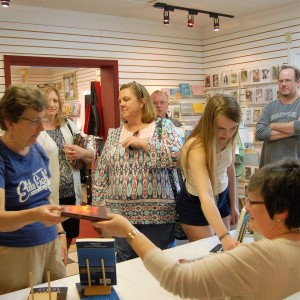 I love the blog, The Passive Voice. Recently, PG (the blogger) wrote about a bookstore worker who struggled with store visitors when they asked about or purchased books that the worker did not believe in. PG mentioned in the end that readers "prefer a judgment-free zone like Amazon over a meatspace retail with a side of attitude." http://www.thepassivevoice.com/2017/07/a-booksellers-elegy/
I would like to take bookstore consideration one step further. How does a bookstore treat an author? Whether a fledgling indie author or a New York Times best selling author ten times over, the human is still there. And any writer is a rabid reader, with word-of-mouth power. And a small-time local author will tout that small-town indie bookstore much louder than that big-town author who flew in and out.
Without a doubt, bookstores prefer best-selling authors for sales. But there are ways of delivering the message when a bookstore can only purchase so many books or house so many signings, and a smart bookstore owner would benefit by being strategically kind to all. For instance, I cannot help but recall the bad experiences I've had with bookstores, and in my hectic schedule, just don't care to revisit those stores even with seven novels under my belt. Which means I do not refer people to them, either.
A lot of this attitude concerning bookstores explains a lot. At a bookstore, we find atmosphere and personality . . . but is it the personality you want? At Amazon, we find the widest selection of books and a market that doesn't judge. Bookstore owner…love everyone who comes in the door and respect their choices. Let them know they are cherished individuals, and you'll do anything to make them happy. They'll love you back, I promise.
BIO – C. Hope Clark is editor of FundsforWriters and author of two award-winning mystery series – www.chopeclark.com